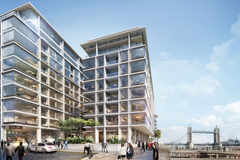 Avande Project - Landmark Place
Avande acts as the go to technology expert for many of London's most prestigious developments. Being one of the most desirable cities to live in on the planet, London's developers demand the very best when designing their homes in every aspect of the build.
We provide much of the technology, control and entertainment systems delivered as standard or available as upgrades in many of London's most sought-after developments including this stunning recent project, Landmark Place.

Built on the site of a former office block belonging to global foods company, Tate & Lyle Sugar, Landmark Place occupies an extremely enviable space on London's iconic River Thames and boasts some of the best views of the capital's most famous landmarks including St Pauls Cathedral and Tower Bridge. The building is located close to London's financial district, as well a wealth of cultural hot spots such as the Tate Modern and The Globe Theatre.
Landmark Place offers open plan luxury apartment living appointed to the standard you would expect from a development such as this, but with the bonus of intelligent smart home features supplied by our expert team. We were responsible for the design, supply and commission of all the automation, control systems and Wi-Fi networks which take these apartments to the next level in convenience and luxury.
As well as the apartments, our team also designed, supplied and commissioned the communal lighting control system, the gym audio visual system and controls as well as the entertainment system available in the communal cinema room.  Our experience across many developments of this type, means every corner of prestigious buildings of this type can benefit from the functionality and ease of use our systems offer.
For this particular build brands such as GIRA and Loxone, both experts in attractive home automation solutions, allow residents to control their lighting, heating, hot water, cooling, towel rails, underfloor heating, as well as set 'scenes' to match every mood for entertaining, resting, working or just enjoying a quiet night in. 
Creating and controlling beautiful homes
Powered by a system known as KNX, the backbone of many modern intelligent buildings, Avande have built a range of convenient and attractive abilities right into the fabric of each apartment at Landmark Place.
Using a mixture of automation specialist brands including Loxone and GIRA, residents can precisely control their heating and lighting adding levels of convenience and aesthetics simply not available a few short years ago. As well as being able to control the heating, lights and content such as music directly from beautifully designed on-wall switches, residents can also control all the systems in each property via a Samsung Tablet.


Choosing the intelligent functions of a new home
Along with the design and installation, we provide a full consultation service on all our projects to make sure that residents can take advantage of all the functionality available and build a home that truly matches their needs. A wide range of products and systems don't just make sure your home is intelligent but deliver in the aesthetics department too.


At Landmark Place, residents have been able to take advantage of additions such as weather stations to help plan the day as well as discrete LED light fittings equipped with motion and brightness sensors which mean the light only comes on when needed and at the right level for the time of day.

Other options included the Loxone Touch Pure, a beautiful wall mounted smart controller boasting a sleek design with a silken glass finish which offers complete and intuitive control of the apartments' lighting, window treatments or even music playback. This lovingly designed product not only controls the home, but adds to the look and contemporary feel of any living space it occupies.

Taking living spaces like Landmark Place to the right level is all about the details and products like the Loxone Touch Pure deliver sophistication and cutting-edge technology in one beautifully presented package. When even more integration is required, residents at Landmark Place have been able to call on the Loxone Touch Surface, a truly unique product which integrates control buttons delivering similar functionality to the Touch Pure, but directly into the hard surfaces in the home, such as a dining table or kitchen work surface.

Residents at Landmark Place have also been able to call on Avande experts to enhance other aspects of their homes including intelligent security systems which feedback information on open or closed windows and detect if there is an attempt at forced entry.
One of the coolest features offered at Landmark Place is the Loxone Caller Service. This truly 21st century service allows a smart home to call the owner when important information is available, there might be a security or utility issue, or it might be that the home owner forgot to do something before leaving that morning. This service provides a convenient reminder and gives each smart home a voice, building a relationship with each family.

Landmark Place stands as a great example of how our team can offer chances to enhance a home, right in the heart of one of the greatest cities on earth.
by Daniel Sait