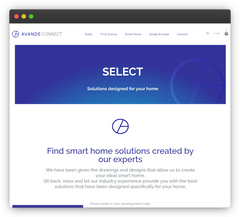 In an increasingly competitive market, how do developers, architects and designers include features that will make their properties stand out and give them an edge? One increasingly popular area is delivering easy to use and effective smart home systems and exciting audio-visual experiences woven into the fabric of any new build project or retrofitted into existing properties. Valid objections at this point could be, 'But what will it cost? How do I build this extra outlay with its associated labour into my project?' The beauty of working with Avande Connect via our Select service is that you don't have to!
Risk free, benefit rich
Our unique approach sees buyers able to upgrade their properties as they move in, or afterwards, via an online portal unique for their building. Homeowners are able to make easy and bespoke choices for their needs; our experts then take care of the complete installation and commissioning of any system that is ordered. Developers, architects and designers bear none of the costs or perceived risks of including smart home or audio visual systems in their projects, but reap all the benefits – as potential buyers that require these systems are able to simply add them as part of their purchasing or renovation choices. It really is the best of both worlds, offering 21st century technology that gives your projects an edge, with no outlay or extra workload. 
Avande Connect is one of the most experienced technology installation companies working in the UK today. With experience of working on some of the Capital's most prestigious MDU projects, as well as working on smaller scale high-end properties and the burgeoning market for technology inclusion in first-time and mid-priced properties, our expert team can deal with any property type of price point. 
Our systems can provide efficient, intelligent lighting and environmental control, as well as thrilling audio-visual experiences such as multi-room music and home cinema systems, expertly woven into the fabric of any home.
Get in touch and find out how we can transform the technology potential of your projects with our turnkey, risk free service.