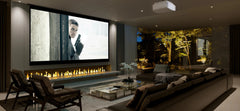 Including a professionally designed and installed home cinema can add huge value to new build and renovation projects for developers and interior designers.
Put simply there has never been a better time to include these wonderful creations into your projects. As developers look to add value into multi dwelling units or single homes, exclusive access to their very own home cinema can be a genuine attraction for many homeowners. 
For interior designers, today's home cinemas offer a new palette with which to create stunning designs that either make a strong statement or subtly reflect the rest of the aesthetic vision for the home. 
All of this can be achieved by partnering with a professional home cinema installation company who can provide all of the technical know-how, and installation expertise so that every project delivers on its goals.
The techniques used to create today's modern home cinemas, mean that rather than being a hindrance to the design community, acoustic panelling, specialised lighting and furnishings within the room, all provide wonderful opportunities for interior designers to show their talent, flexibility and offer their customers something they will never have experienced before. 
For developers, as the market sees increasing competition, making new builds or renovation projects stand out gets harder and harder. Home cinemas add value to any project that they are included in and as the sector grows and becomes more well known, increasingly respective buyers are looking for properties that go the extra mile. 
A mature proposition
Although relatively new to many, the home cinema market has actually been around for some considerable time, decades in fact. Systems have been evolving for a many years and currently new technologies from content creators, manufacturers and the companies that design and install the cinemas, now meet in a fantastic zenith where form meets function. There really is no limit to what can be created. Many different budgets can be accommodated, while still maintaining stylish interiors and high performance. 
Audio technologies such as Dolby Atmos/IMAX Enhanced and DTS:X as well as 4K/8K Ultra High-Definition imaging have been harnessed for the home. These deliver performance that surpasses what is experienced in commercial cinemas and the customer gets to enjoy all of this without having to leave the comfort of their home. 
A modern home cinema is also a multi-media device able to deliver high-quality content from sources such as disc players, high-performance streaming sites and movie servers, but also offer enhanced gaming experiences and super-sized Zoom calls to friends and family. Today's systems can also be used to display digital art or images from the family's own archives, adding yet another element to enhance home life. 
The technology to deliver all of these experiences is the domain of our team here at Avande. 
All of these projects also provide massive opportunities for the design community to spread their wings into what will be a new sector for many. The furnishings can be bespoke designed to match the aesthetic ambition for the building as a whole, the fabric treatments which make up the walls of the cinema are an available surface to add extra interest and further bespoke touches to the look and feel of the home.    
Another approach is to use the expertise of Avande to weave home cinema equipment into an existing multi-use living area that will mix perfectly with the aesthetics of any space but can still offer all the entertainment and performance the family need. 
In much the same way as a bespoke kitchen space has become a standard for new or renovated homes, advanced entertainment systems that can deliver many types of content and engagement are fast taking a place as much desired requirements for homeowners. 
If you have clients who yearn for high-performance audio visuals, our team can make it happen and work with you to ensure your vision for the space in enhanced and the customer gets the entertainment they desire.