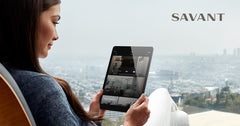 Advanced technology and thoughtful, experienced based means of implementation, now mean home creators and renovators can allow their customers to access fuss free ways that deliver bespoke control of their entire home.
The home automation sector has been in existence for quite some considerable time with a history stretching back some 30 years. Early incarnations involved lots of programming and considerable amounts of time and effort to bring about the desired result. Systems were also considerably more expensive than they are today.
A more mature market now offers solutions that subtly blend with any type of home and can be fitted during build or renovation phase or retro-fitted afterwards. Many different types of budget considerations can be accommodated. This more evolved market offers risk-free opportunity to developers and renovators to provide their customers with something unique and life changing.
At Avande Connect, we not only understand all of the technologies and can fit them expertly into any type of project, we have also innovated in terms of how home automation is introduced into a project. Our Avande Select on-line portal means that homeowners can access a unique website for their property and make informed choices about which areas of their home they would like to enhance with 21st century technology.
The entire interaction is completed between the homeowner and Avande Connect, removing any risk to the developer as the customer selects and pays for systems that they require meaning there is no need to build systems into the original plans. The homeowner simply makes their choices from systems specifically designed for their property and they are fitted just before they move in or at any point after.
System specific 
Many years of designing systems means our engineers understand what consumers and homeowners really require from a home automation system. It's all about empowerment and ease of use, systems should never feel complicated but intuitive and moulded directly with the needs and desires of those living in the dwelling.
Intelligent lighting and control of ambient light is a powerful way of improving home life. All buildings have lighting anyway, so placing in the palm of the hand of every member of the family the ability to alter the brightness or indeed the colour of the lighting is a very useful tool.
Today's systems go much further than that however and can be set to react to certain times of the day or certain events. Special scenes can be created which greet the family when they come home or gently help them wake up in the morning. Sensors can also automatically control when lights come on or turn off, adding practicality and efficiency.
Get up for a glass of water in the night, the systems guides you to the kitchen and back, without waking everyone else up. Detecting that everyone left the dining room five minutes ago, the systems then turn the lights off in the space.
Automated lighting such as Lutron's RA 2 System can also add security as it has the ability to mimic occupation should the owners be away.
The control of ambient light into a home is also a key ability. Automated window treatments can be brought into play working with the intelligent lighting to create scenes, but also controlling how much ambient light comes into the home preventing glare or unwanted heat build-up. These systems again offer a more efficient more beautiful home.
Very similar capabilities are also possible in terms of controlling the home's heating and cooling environment. Modern intelligent systems can react to exterior stimuli such as weather conditions and they can also follow pre-programmed patterns to deliver efficiency.
Everybody wants to feel safe in their home and 21st century security systems deliver this even when the homeowner is not in occupation. Enhanced security can deliver peace of mind with cutting edge technology that monitors every aspect of potential threats and also allows the family to check the status of their home even when they are away via cameras or other monitoring systems.  
Entertainment is a huge part of what a modern automated home can offer. A very popular choice are multi-room music systems which means the homeowner can access their favourite content be that music, podcasts or talking books wherever they are around the home.
Powerful apps give the homeowner access to content rich search engines to find exactly what they're looking for, or for the more casual user playlists and more automated nude music can be activated with one tap or via voice. There is no part of a home that audio cannot reach and that includes the exterior areas as well.
For those homeowners who want to take the entertainment up another notch, home cinema systems are a very popular choice. These systems can be subtly woven into the home so they never feel overbearing but when required can offer the whole family access to their favourite movies and shows at the touch of a button and in very high quality.
All of these smart home systems can also be adjusted and controlled at all times via the family's smart devices as well as attractive wall mounted control points that replace the traditional light switch or thermostat.
Home automation is at the start of its journey of becoming standard in all new and renovated homes, begin you journey risk free with Avande Connect.