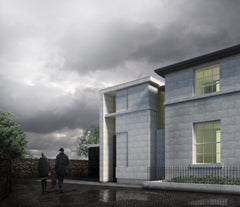 This Grade Two listed property needed sensitive handling in all the areas of its renovation and conversion. Reform Developments turned to the Avande Select Portal to ensure this building's new lease of life included bespoke, cutting-edge technology. 
Befitting this grand building's Grade Two listed status, Reform Developments wanted to rejuvenate this beautiful Victorian masterpiece, located in the spectacular surroundings of Ulverston in Cumbria, and return it to its glory days as a prestigious residential estate.
Ford Park House was constructed between 1857-1860 for the son of Montague Ainslie, owner of the nearby Grizedale Hall estate near Hawkshead. In 1942 the Ministry of Defence took over the estate to house the US army and in 1948 the site was sold to the county council and became a popular local school with many of Ulverston's present generations being taught there. 
Architects, Lind Studio, worked to refine a previously approved design for an extension consisting of two apartments, echoing the form of the existing building, and convert the original building into seven self-contained apartments. 
Key to the design was the retention of period features such as timber joists, covings and floor tiles while contemporary timber details and subtle, high-end finishes, balance the history with a new vision for the building. 
The grounds of Ford Park House connect directly to the flourishing Ford Park Community Group which is developing the park for future generations and offers wild meadow projects, beautiful gardens and a café which often hosts events and cultural evenings. 
Introducing technology to a period property
Reform Developments prides itself on meticulous planning and brings in recognised experts in each field to ensure the delivery of its projects is not just timely and within predicted values and budgets, but the finish and experience for the buyers is of the highest standard. 
Reviving this period property is a great example of how smart home technology and entertainment systems can be woven into any type of home, new build or the most sensitive of renovation projects where existing features need to be respected.
James Bell, Director At Reform Developments, comments, "We have had smart home technology on our radar for some time, but until now had not found a satisfactory route into providing these systems for customers that want them. With the Adande Select Portal, buyers can choose exactly what works for them and deal directly with the Avande team offering an efficient and bespoke solution in delivering smart home technology."
Each new owner of a property at Ford Park House receives a unique code which allows them to access our Avande Select Portal, an on-line environment that allows them to make individual and bespoke technology choices designed specifically for their apartment. Making choices that match their priorities and approach to living means every aspect of their new life at Ford Park House can be enhanced. 
Many homeowners want to have increased control of their heating and our systems provide the ability to control in real time the precise temperature in every room of their apartment. The systems also allow the heating to be automated to match occupation cycles, heating the home to ensure the right temperature as the owners return from work, increasing efficiency and saving energy. 
Managing the environment inside these fantastic homes is also possible in another way as automated lighting and blinds can deliver the correct amount of artificial and natural light at any point in the day. Owners have complete app-based control over their blinds and lighting any time they need it. The system can also be automated to match their movements and schedule, activating when they get up, or come home or saving energy when they are not in and have neglected to turn off the lights. 
Our lighting installations also provide the opportunity to set different moods with special scenes comprising colours and light levels that chime with whatever is happening in the home, relaxing with a good book, dinner gathering, or full on-party time can all be given that special atmosphere. 
These days having a strong home internet connection and Wi-Fi network is seen by many consumers as just another utility, vital for their home and often work life.
Our systems allow owners to boost their home's network so they have a rock-solid basis from which to enjoy whatever entertainment they want, streaming services like Netflix or using their smart devices for social media. With the increase in working from home, owners are also often reliant on a strong network to ensure they can maintain full connectivity and connections with colleagues.
Security is of course high-up the list for most homeowners and this solid period property already delivers plenty of this, but owners also have the option to increase the security of specific areas of their home to deliver practicality and peace of mind. 
When it comes to fun time, ease of use and high-quality should be delivered to the same high standard as every other aspect of the home. The new owners at Ford Park House can enjoy multi-room music systems so their favourite content can be enjoyed in any room in fantastic clarity. Listening to a podcast, internet radio or locally stored digital files, is all a breeze, filling the home with whatever mood or activity is required.  
All of these options are delivered with ease by logging onto the Avande Select Portal and dealing directly with our expert engineers for installation and maintenance. 
All of the systems are respectfully created and woven into the home maintaining the special look and feel of Ford Park House.