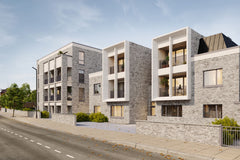 The Avande Select Portal acts as the gateway for owners of these stylish homes to begin a new journey into the cutting-edge and lifestyle rich realm of the smart homes available at the Royal Majestic Apartments.
Avande Connect has been operating in the smart home and high-quality AV space for many years and has used this experience to create the Avande Select Portal. This service provides homeowners and developers with a unique, bespoke and risk-free strategy to create 21st century homes built around the exact needs of each family. 
On this occasion Avande has teamed up with developer Gage, a company with a 30-year track record of producing high-quality homes in London and Southeast. The company is very selective in who it chooses to partner with when creating its homes and Avande is delighted to be working with a developer that has such a strong track record and shares the same values in terms of customer care and attention to detail.  
The Royal Majestic Apartments
This particular development consists of a collection of sixteen stylish one, two and three-bedroom homes. These luxury homes offer many benefits and are finished to a very high-standard throughout. Each home enjoys a private balcony and on-site car parking. The development is located in the attractive and sought after suburb of Brondesbury, in North-West London. 
Completing in Q2 of this year, all the dwellings can boast high-concept interior design. This is something Gage is particularly known for throughout its portfolio. The company works hand in hand with the appointed interior designers on every scheme, delivering for the purchasers an aspirational home lifestyle. 
Sumptuous, stylish, cutting-edge, bold, contemporary, functional, balanced and beautiful are just a few of the ways to describe the character of the typical Gage property. The company can now add to that list smart home and entertainment rich environments created specifically for each owner. 
Rafael Baiao, Director at Gage explains, "The smart home concept is a relatively new one for us. Our approach is all about high-quality, so without in-house expertise, we did not want to include anything in our developments that was not of the same standard as the rest of the build. However, after we were introduced to the Avande Select Portal concept we could see how offering a total package like this was the answer we were looking for.
"We feel offering this type of technology is a strong pull for our buyers who are looking for attractive, easy to use lifestyle features in their homes such as these. It's great that the buyers have complete flexibility, they can choose whatever suits their priorities."
Rafael adds, "A key point for developers is controlling any up-front commitment to features and systems that we can't know if the customer will want after the design and build phase. The Avande Select Portal works well because the new homeowner can deal directly with Avande and choose exactly what they want. We are definitely looking at including this in future projects."
Making the Majestic future proof
The Avande Select Portal works by offering each homeowner the chance to purchase smart home or entertainment technology that exactly suits their tastes and needs. 
Before moving in or indeed at any point after, the owner can access the portal with their own unique code and begin making choices about their home using the systems designed not just specifically for their development, but for their individual apartment or home. 
Once the choices are made, our smart home engineers fit the systems with no impact on the aesthetics of the home and then continue to support the systems throughout their life. Homeowners deal directly with Avande, their smart home concierge for their entire time at the property. 
Top of the wish list for many new homeowners is energy efficiency and our smart home lighting and environmental controls are consequently a very popular choice. 
Avande's smart lighting and environmental control systems add efficiency as each system automatically adjusts itself according to set parameters throughout the day and indeed the year, based on environmental factors and other data such as occupancy. These systems also allow the user to dial into the system at any time and make manual and immediate adjustments instantly to any zone in the home. 
The lighting systems also provide the chance to make a home more attractive and welcoming as special 'scenes' can be enacted automatically or manually to match every occasion. A 'returning home' scene ushers the family in and welcomes them home, or a 'waking' scene eases the family gently into the day. Other scenes for party or movie nights can add extra drama and atmosphere to any area of the home.
Everybody loves music and with our multi-room systems every member of the family can have the sounds and stations they love in any room of the home at any time. 
These days high-quality integrated speakers can be woven into the fabric of the home, offering high-quality performance with no aesthetic impact on the finish of the home. When it's movie time, owners will also be able to bring into play their own dedicated home cinema audio system created to bring to life the magic of their favourite films, concerts and content.  
Each homeowner can also add to their peace of mind with extra layers of security appropriate to their needs and the requirements of the particular home or location. Adding extra security to specific areas of the home, our systems promote ease of use and reliability. 
Making the choices that suit them through the Avande Select Portal means these beautiful dwellings can be moulded to the exact needs and requirements of every user making houses into homes.