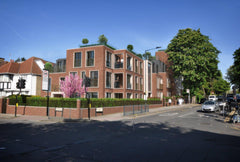 Luxgrove Homes
accesses the
Avande Select Portal
to offer cutting edge technology in these stylish and sought after new homes. 
The development benefits from an excellent location in North London with fast links to Central London and the City. Brondesbury Park mainline station is close by, with Kilburn a short walk for the Jubilee Line and Queens Park for the Bakerloo line. The area has great opportunities for recreation with several parks and sports facilities, many welcoming restaurants and pubs as well as a variety of shops close by.   
Comprising nine homes, six luxury apartments and three spacious family houses in a contemporary and elegantly designed building, this new development underlines how classic effortless style can be wedded with the very latest smart home automation and entertainment systems. The three unique houses boast curated interiors incorporating UK made shaker style kitchens, skilfully designed lighting and luxury bathrooms and bedrooms. 
The apartments are finished to the same standard with curated interiors, UK made shaker kitchens, attractive lighting and luxury bathrooms and bedrooms. These homes have also been designed with a view to offering their new owners the opportunity to create entertainment and smart home functionality specifically for their needs.
Open new doors with the Avande Select Portal
The new owners can use the Avande Select Portal to create the home of their dreams with all the functionality they require without compromising the wonderful interiors created by Luxgrove Homes in partnership with boutique designers Ademchic. 
With access to the on-line Avande Select Portal using a unique code, residents can explore a range of systems designed specifically for the needs of their apartment or house. The whole process is carried out as a transaction between Avande and the homeowner with no need for the developer to get involved, but falls fully under the developers new home warranty.
Everything is fitted and supported by our expert team of engineers with minimum fuss and zero aesthetic impact on each home. All the systems are designed so that they can be fitted just before residents move in or at any time afterwards. 
Multi-room audio to enhance the home with music everywhere as well as a full-on home cinema experience for the living room are included in the audio options. For extra comfort, precise zonal control can be created via an enhanced heating package which offers exacting control of the homes' environment. Smart home lighting is a further option allowing homeowners to set the right mood for any occasion with controllable colours and light levels and they also have access to automated scenes such as 'welcome home', 'bedtime' or when they leave for work. Users also benefit from greater energy efficiency with lighting able to turn itself off if not in use, this is also true of the heating systems, delivering cost savings to the occupants.
Controlling sunlight is also important and all the dwellings benefit from a specially curated set of automated blinds in a range of attractive finishes and colours handpicked for these properties. If homeowners want to choose a fabric of their own, they can use the Select Portal to access a range of further options. 
William McKenna, Co-Founder, Luxgrove Capital Partners, explains, "It is always a challenge knowing what additions and specifications to offer on a high-quality new build property. The Avande Select Portal is a strong option for us as it allows our buyers to select the options that suit their lifestyle and deal directly with the experts that will be installing and supporting the systems."