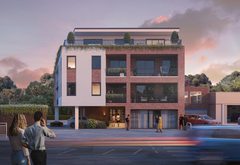 The Avande Select Portal delivers smart home and high-performance entertainment options in partnership with Impact Capital Group for Impact House, a signature development in the heart of Chigwell, Essex.
"Chigwell, my dear fellow, is the greatest place in the world." Charles Dickens, 1844. 
Not wanting to argue with one of the world's greatest ever writers and social commentators, Impact Capital Group and Avande Select are offering the chance to take up residence in one of the most sought-after locations in Essex, Chigwell. Impact House is a development comprising 14 high end apartments including two penthouses. This varied development of one, two and three-bedroom dwellings will be finished to a very high-standard with pre-sales and marketing beginning in March 2022.
The development is located adjacent to Chigwell Underground Station (Zone 4) which provides access to the heart of London in around 40 mins. The development also enjoys excellent local amenities for entertainment, relaxing or shopping. 
Impact Capital Group's vision for this project is to combine smart home technology and entertainment systems with timeless elegance, offering a signature address in keeping with the town's history and reputation for affluence and style. 
The owners of these fantastic apartments will have the chance to live at the cutting edge of technology with a full suite of smart home and entertainment options purchased through the Avande Select Portal. 
It could not be simpler for the proud new owners, log on to the Portal, enter a unique code and start adding the functionality and systems that will create a truly bespoke experience suited to their needs and desires. 
All the ordering, fitting and support for the systems is taken care of by our experienced engineers either before or after the owners move in liaising directly with the homeowner. Our approach means developers can offer smart home and audio-visual experiences from an expert with no need to add extra resourcing at their end.
Sebastian Whitton, Operations Director at Impact Capital Group, comments, "During the early planning stages we decided that we wanted to make smart home functionality a key part of this development. Moving forward we want all our buildings to be like this, offering cutting edge technology for a better lifestyle but also offering energy savings and increased efficiency."
Klaudia Bacinska, Director of Brand and Marketing, Impact Capital Group, adds, "A key target market for us are millennials (born between 1981 and 1996). This consumer group increasingly expects this type of functionality and we want to lead in offering these options to homeowners. Every development we take on is slightly different and we will adapt what we offer for each project to suit the building, the surrounding area and the potential target market." 
Sebastian adds, "We have been aware of the Avande Select Portal for about a year and once we saw the functionality and ease of use, we decided right away that we wanted to use this service for Impact House." 
So, what exactly is on offer at this technologically advanced development?    
Smart home and entertainment up-grades
Owners can enjoy multi-room audio upgrades using either integrated in-ceiling speakers or stand-alone styles. In the living room a wireless home cinema speaker package is available to enjoy favourite content in the highest-possible surround sound quality. 
For increased comfort, occupiers can choose to upgrade the control of their heating by increasing the number of sensors and accessing complete app-based control of every zone in the home. 
Lighting up-grades offer beautiful, automated systems that can be added to every room to match any mood or important events such as arriving at or leaving the home. For ambient light control a series of manually operated or automated blinds are currently available for this project.
Every homeowner wants to know their home is as secure as it can be and those living at Impact House can enhance their peace of mind via unobtrusive systems increasing the amount of motion sensors or other protections such as flood detection, so every area and every eventuality is covered.  
All homeowners will be delighted to learn that every aspect of the options provided have been handpicked and designed to suit their individual apartment. All the owners need to do is to choose which upgrades suit them and our experienced engineers will do the rest with minimum fuss and no aesthetic impact on their home. The Avande Select Portal is set to have a serious impact for the new occupiers of this prestigious development. 
If you are a developer who wants to find out how to add smart home and luxury audio visual systems to your projects with no up-front costs, get in touch!