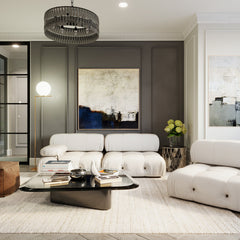 The Avande Select Portal offers the new owners of these exclusive homes at Blackbird Lane the opportunity to personalise the technology found within to perfectly suit and enhance their lifestyles. 
A well-established relationship between the developers responsible for this project, Luxgrove Homes and Avande Connect (creators of the Avande Select Portal), means these homes can take advantage of a unique approach to including smart home tech and advanced entertainment systems. 
The Avande Select Portal means that developers can include smart home functionality without disruption or added risk to their builds and homeowners get to choose exactly what they want and deal directly with our expert engineers. 
Tightly controlling every aspect of a build is particularly important in a project such as this which offers four luxury family homes located at the end of a private drive just 0.2 miles from Northwood town centre and Northwood underground station in North West London. 
This gated development has been created to be the perfect location to relax, unwind and entertain. The properties boast significant outdoor areas with attractive expertly landscaped gardens. 
Wanting to offer buyers the very best on the inside of the properties as well, Luxgrove Homes have worked in partnership with leading London interior design studio ADEMCHIC. The company's young team of designers have meticulously thought through every detail and finish and created a unique, fresh and inspired interior that oozes sophistication and comfort. Luxgrove Homes say that the latest design trends have been embraced, combined with timeless quality materials to make bold and long-lasting interiors that are distinguished and original. 
Instead of run of the mill designs, Blackbird Lane offers original 1909 design, a classic painted in-frame kitchen, with a timeless quintessentially British feel. 
Careful attention has been paid to every detail such as the soft integrated lighting above the concealed curtain rails to the sleek design of the downlights and light switches. The bedrooms offer super-soft carpets, bespoke joinery, selected luxurious hand-painted wall panelling in master bedrooms and built-in wardrobes. 
More attention to detail
With this much care being lavished on the rest of the property and Luxgrove allying themselves with the best in each discipline, you would expect no less when it comes to the technology for the homes. 
As the new owners of these family dwellings move in, or after if they wish, they can make informed choices by logging onto the Avande Select Portal, created specifically for this development. By using a unique code, they can access options designed specifically for their home by our expert engineers.
These types of homes lend themselves well to enhanced entertainment systems. The homeowners can have multi-room music systems and a full-on home cinema experience in their lounge for unforgettable movie nights or to show their favourite concerts and content.
Controlling the environment in larger homes can be a challenge. Our engineers have designed smart home systems that will allow the occupants to control every zone of the space precisely in real time or set up automated scenarios that control the temperature right around the home based on time of day, time of year or other factors such as the weather. 
The owners can also enhance their security with advanced systems protecting every aspect of the home including the exterior spaces, offering complete peace of mind via intelligent alarms and CCTV. 
Automated and intelligent lighting is another key option here as homeowners can choose systems that make the home more beautiful and more efficient. Special scenes can be created that allow the owners to enjoy every aspect of the home on whatever occasion creating drama, relaxation and fun all at the touch of a button. 
Automated aspects of the systems allow the home to independently control energy efficiency, switching lights off that are not needed based on room occupancy or events such as at bedtime or welcoming the family home when they arrive having switched all the lights off earlier when they left. 
Enhanced lighting can also partner with equally intelligent shades which work in harmony with the lighting to create exactly the right atmosphere and setting for every occasion. Intelligent shades can also help control the temperature inside the house, protect from glare at specific times and in general make the home even more attractive and comfortable. 
Choosing the options that suit them, each owner then receives a fast, efficient and disruption free installation and on-going support from our engineers. 
Luxgrove Homes underlines the relevance of including the initiative, with a company spokesperson stating, "It's a great sales feature and with many buyers being more conscious now about having 'smarter homes' this enables them to do exactly that, and with minimal fuss and disruption. Buyers also like to be able to add their own personal touch suited to them."
Blackbird Lane owners can make their homes truly sing with the Avande Select Portal.