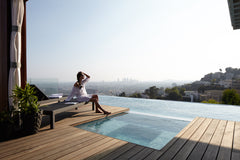 Here at Avande, we strive to provide our customers with only the very best products and systems to enhance your life and home. There are lots of automation systems on the market, however we select only the very best and most cutting-edge to ensure you get the most fulfilling experience possible. Savant delivers this aim perfectly with its sleek, easy-to-use system that simply puts the power of home automation and the enjoyment of all your favourite content right in the palm of your hand.

Flamboyant serial entrepreneur, Robert Madonna (affectionately known as Bob) founded the company in the early 2000s and has been its CEO since 2016. Bob's vision was to provide genuinely luxury products that delivered technological firsts in a package that homeowners found easy to use.

Caroline Britt, managing director Savant Europe, responsible for the brand right across the continent, explains, "Savant was founded in 2005 with the goal of providing the best experience in luxury home automation. To us, that means products that are inventive, easy to use, and future-friendly, so our customers will be able to enjoy them for years.

"As the first home automation company to embrace mobile technology, we understood early that the customer experience could extend beyond the home and open up new possibilities for control through iOS (Apple) and Android devices. Over the years, our technology has evolved, and our company has grown, but our goal remains the same. We've become the home automation brand of choice for the world's most luxurious homes."
So what is Savant?
Put simply, Savant allows you to control every aspect of your home, lighting, blinds, security, utilities, music systems, TVs and other entertainment devices, via a simple app tailored exactly to your home located either on devices you already own, like smartphones and tablets, or via dedicated Savant controllers located around the home.

Each system is designed to suit exactly the needs and desires of each owner or family and delivers all of this luxury control in a way that is convenient and intuitive.
Savant sets itself apart from the pack by offering style, functionality with a sleek interface. At the heart of the control system is the company's latest version of its app, which delivers all the control you could ever need.
All of your favourite music, movies and TV content becomes immediately available wherever you need it and in perfect quality.
Caroline explains, "The Savant Pro 8 App offers unparalleled convenience; allowing the homeowner to personalise the way they interact with their home. It enables the user to see what's going on in their home from a quick glance at the home screen from home, when out and about or even when abroad. This unique and intuitive app will store 'scenes' designed and set by the user to simplify everyday life."

These 'scenes' can reflect different needs or moods required for returning home, relaxing, entertaining or family movie time, setting the right lighting, turning on the right equipment, playing the right music or TV channel, all completely automatically if you choose.

Other abilities of the system include Savant Music, which lets you enjoy high fidelity audio from your own collection or stream personalised playlists anywhere in the house, at any time.

To control the system, the Savant Pro remote is a stylish, comfortable handheld control with a high-resolution touchscreen and voice commands, especially created for the job by Savant. For added convenience, wall stations (5in and 8in) are available that can be strategically positioned around the home for further control and convenience. The Savant control app can also live inside all your favourite handheld devices, smartphones and tablets too.
There are lots of ways to control your Savant home, handheld dedicated controllers and wall-mounted control points, as well as using tablets and smartphones you already own
There's no place like home!
The Savant system has always had personalisation as a top priority. Our engineers can create interfaces that match exactly the needs of each home, even creating control scenarios where you interact with actual images of your home inside the app, so control could not be more intuitive and easier to use for the whole family.

Known as Savant TrueImage, the system uses images of the actual room you are in as the control interface. Want to turn on the TV in the living room? You literally touch the TV in the image stored within the app and the job is done. It could not be more intuitive!

Explaining a few more of the system's abilities, Caroline says, "With the Savant Pro App, remote and wall stations, the homeowner can set up profiles for family members and create their own scenes. So, if a guest is staying for the weekend, the homeowner can create a profile that allows the guest the use of some or all of the facilities. New scenes can be created effortlessly for personal or shared use where the lighting, heating, music, or other aspects of the home can be matched to suit a person or a mood, like party time, dinner time or a more chilled out vibe."

Another cool function is delivered by Savant's new IP Video Tiling feature, which delivers the ability to view multiple video sources at the same time on a single display. So, from your TV, at the touch of a button you can see exactly what is happening outside the home via networked cameras (if someone rings the doorbell, for instance) whilst continuing to watch the content you were in the middle of. You can check out what is going on around the rest of the home, such as a pool area, or kids' playroom at the same time, delivering peace of mind and extra security for your family.

Not just cameras, but many sources or feeds can be connected to Savant's IP Video distribution system within the Tiling function. All features are built in, enabling you to access and view any available source as a tile on any display within the IP video network. The streamlined user experience allows Tiling pre-sets to be created within the Savant Pro 8 App, saved and added to scenes, so – for example – if you want to watch the big match, but keep an eye on another important game too, no problem.
The Savant Tiling feature allows you to watch several feeds at the same time from cameras or different channels or sources
Easy to retrofit
The Savant system is suitable for many different types of homes. New builds and those undergoing renovation can take advantage of the system, but Savant can also be retrofitted into any existing home or apartment with ease.





Especially strong for the retrofit customers and apartment living, Savant has developed its S2 host product which is an advanced solution for systems needing up to six zones of music control and two zones of TV/video, it can be wired directly into the home's network (which Avande of course can also deliver) and provides a variety of built-in functionality to allow you to enjoy and control each aspect of your home. For larger apartments there are the Savant Pro Hosts and IP Audio products, which deliver even more power and control.





As a company at the cutting edge of automation and entertainment systems, Savant is dedicated to delivering the home of your dreams, but not just for today, way into the future as well.





Get in touch with us and let us start you on your Savant journey. You can rest assured you will have the best experience possible – not just for now, but forever.



by Daniel Sait