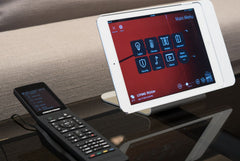 Avande offers several different options to deliver home automation and excitingly modern entertainment experiences into the home. Crestron is one of the longest established, most comprehensive and high-tech systems available.
The company's origins stretch back as early as 1969, and through the years, the company has posted many milestones in the world of home and building automation, creating a genuinely global company.
For flexibility, style, grace and the sheer amount of functionality it can deliver, Crestron has become a hugely successful platform that can rightly claim to have been a major pillar in building the smart home market.
Like all of Avande's brands of choice, Crestron delivers its automation and entertainment experiences without impacting negatively on the fabric of your home. In fact, many of Crestron's subtle control interfaces enhance the look of any space they are incorporated into.
With varying levels of automation and functionality, Crestron can deliver automation for an entire home controlling lights, heating, security and utilities, creating a powerful network of control placed directly into the palm of your hand or controlled from stylish and intuitive wall-mounted controllers.
Effortless Control

Crestron even allows the home to be controlled via voice commands, adding another level of advanced control that delivers practical benefits. If, for example, you have your hands full cooking, and want the lights to go higher or the music to go lounder, you can just ask the system to oblige.

It's also great fun to experience easy and advanced control of this kind.

However, Crestron's abilities do not end there: the wonderful world of 21st century entertainment systems are all within Crestron's grasp, delivering multi-room listening and viewing opportunities of all your favourite content and exciting next level gaming too.

Crestron is also great at controlling complex rooms such as home cinemas and media rooms, in either private or shared spaces.

Ultimately, Crestron has the power to make every part of each day easier and more fulfilled all around the home, taking the decisions on how much light should be in the home, what the security status of the home is at any given time, and even what TV channel you like to watch when you come home.

All these abilities do the mundane heavily lifting of life, so you and your family can get on with the really important stuff, enjoying time together and making your home life more fulfilled.

Crestron systems can also deliver the ability to check on the home even when you are not there. Using smartphones or tablets, you can check on the status of your home wherever you are. You can ensure that your beloved dog is not lonely, check that the teenagers are behaving themselves or just get peace of mind that everything is locked down tight and secure.

Crestron has been designed to be one of the most flexible and adaptable systems on the market with its ability to match the character of the home and the people using it a real joy. It becomes part of the fabric of home, a genuine 21st century electronic concierge.
Crestron can set the mood for each occasion
Imagine, as you step into the pre-heated bathroom, that your favourite streaming music station turns on, or you settle down in the living room and your favourite evening viewing TV channel comes on.

Crestron can create special 'scenes' for every occasion imaginable.

Activate 'breakfast' scene and the kitchen lights turn up, the shades rise, and your favourite news show comes on the TV.

Tap the 'away' scene in the Crestron app and at once, the garage door closes, all lights in the house turn off, the temperature and shades are lowered, and all door locks are secured.

Set the perfect ambiance - lights, shades, and music - with a single tap of the 'dinner party' scene button. With Crestron, there's never any delay - everything adjusts instantly. All that's left to do is sit down, relax, and enjoy.

At the end of a long day, settle into the comfort of your bed and let Crestron take care of preparing your home for the night. Just tap or say 'goodnight' and let all your stress melt away.

Lights turn off throughout your home and the nightlights in the kids' rooms adjust for sleep time.

Your security settings are activated automatically; all your Crestron motorised shades are drawn, and the temperature is set back - all without getting out of bed.

This is luxury living at its best and it's just the beginning, in a home where all the technology is seamlessly integrated and commanded by one-touch or your voice.


Get in touch and let Avande take your home to the next level of comfort, security, fun and style. Whether your home is a large detached house or a stylish city apartment, Crestron can do it all.
by Daniel Sait