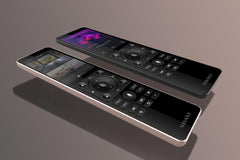 Here at Avande we maintain a very brand agnostic approach to the world of automation and audio-visual systems. We make sure that we have a wide range of brands and products to choose from ensuring we are able to service exactly the needs of each client and project.
However, this does not mean we do not have strong opinions on products and love to shout about it when we discover a real gem.
This is exactly the case with the Savant Pro Remote X2, a controller designed to work with Savant's own home automation platform, a system designed to provide a solution for luxury homes and apartments controlling everything from entertainment devices, to security, intelligent lighting, shades and other unities all with a real sense of style, combined with ease of use.
 This latest version of the controller is offered in a sleek and minimalist design. It features a 480 x 800 resolution 3.1in touchscreen, so each user can see exactly what is being controlled and how. Each user is able to personalise the display (or ask their install professional to do it for them) to create and save custom screen layouts for fast and easy access to everything that gets used most around the home. Favourite TV channels, music content or commonly used Savant 'scenes' (which deliver the right mood for any occasion, such movie night, dinner party, chill out, or bedtime) can also be accessed fast and without fuss. Adjustments to the customised layout can be made at any time, or an optional PIN protection can also be introduced which stops others from adjusting your settings. As well as the touchscreen, the remote also has elevated, back-lit hard buttons that form part of the control options that come with the device.   
This feature-packed product also includes the option to control a home with voice commands via Siri integration. Voice control is growing in popularity for home automation and Savant's approach is one of the best - offering reliable and intuitive shortcuts to some of the most commonly accessed entertainment experiences or for jumping to pre-programed Savant scenes.
The Savant automation system has its own beautifully created app, which delivers complete control of everything the system can do.  The Pro Remote X2 dovetails perfectly with the app, by being able to activate the app and display it on any connected TV in the property. From here, using the remote, the app can display security camera footage or Savant's TrueImage control system, which uses real images of the home and its contents to control every aspect including audio visual systems, lighting and security. 
What's more, as well as being included with any new Savant system being installed into a new home or via retro-fit, the Pro Remote X2 can be added at a later date to any Savant system without the installer even needing to visit the home. The remote can be delivered to the home pre-programmed and ready to go right out of the box. 
The Savant Pro Remote X2 is not just clever on the outside - users can choose from a range of finishes to suit their taste and the rest of their home. The unit comes in a choice of really attractive finishes including space grey, jet black and rose gold. All the functionality is contained within a sleek aluminium body which comes with a matching sturdy magnetic charging base. 
Designed to be highly ergonomic, the Pro Remote X2 just feels 'right' in the palm of your hand, offering just enough that will be familiar, but also new and exciting to make controlling any home a genuinely 21st century experience.  
Pro Remote X2 features 
Built-in voice control with Siri integration
Large high-resolution touch screen 
Control integrated lighting, climate, and security systems
Capture and activate Scenes and Service directly from the remote
Personalisation by the user so everyone has quick access to their favourite channels and Savant Scenes
Multiroom support 
Works on both 5Ghz and 2.4Ghz wireless bands
Completely redesigned form factor with an aluminium body, sturdy magnetic base and elevated, back-lit buttons that fit in any room of your home