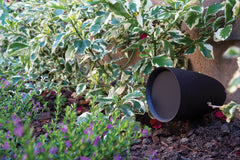 One of the fastest growing areas in the audio-visual installation world might surprise you. Speaker systems that are specifically designed to enhance enjoyment of exterior spaces including gardens and commercial spaces too are on the rise.
Originally designed for countries that experience 'good weather' most of the year, their success in the UK and Northern Europe has been impressive, but understandable when you experience just how good these systems are. 
As summer beckons, the impulse to maximise the value of outside spaces for work, rest and play is blooming, especially when social distancing is keeping people closer to home than normal. So why not improve the quality of your time al fresco with your favourite music? 
A new generation of very discreet and directable outdoor speaker systems gives you great full range sound quality you can control, allowing you to enhance your mood with gentle background music or something a little more dynamic around the barbeque or on the patio. Many of these systems are designed to cleverly direct the sound so it stays in your garden and does not leak into spaces you don't want it to be.
At Avande Connect we supply the Sonance brand, the world's original integrated speaker provider. The company has just expanded its award-winning weather-proof outdoor range to offer technically advanced options that blend into gardens large and small. Choose from the new scalable Patio Series for a bijou terrace or cottage garden, or the Garden Series for larger spaces. And for the largest plots, the Landscape Series offers peerless full-range sound quality and smooth coverage that can be enjoyed and appreciated in every part of the garden. Nearer the home, in-wall and on-wall speakers conforming to Military Standard 810G weather proofing are perfect for delivering discreet sound around pool or paved areas. There are also rock-like speakers for hiding in rockeries or heavily planted areas. 
Especially created to withstand anything the weather and environment can throw at them, whilst delivering a quality of sound that is really impressive, exterior speaker systems from Sonance can take your enjoyment of your exterior spaces to a whole new level. Whatever the design challenge, you'll love the answer from Sonance.