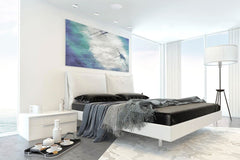 In an increasingly competitive market, those creating new developments – whether it be an MDU, smaller housing scheme or one-off high-end home – need to find an edge to make them stand out from the crowd. 

One of the increasingly popular options here is to offer buyers a 'Smart Home' option where the dwelling is supplied with high-functioning and efficient automation systems that not only save them money, but adjust the environment to their specific needs, making their house more their home. This sector can also deliver high-performance audio-visual experiences such as multi-room music systems or full-blown home cinemas.   
Sounds great, but all of this is going to cost the developer significantly in terms of extra cost on the build as many aspects of the systems need to go in as the building goes up, right?
 
Wrong. 

The Smart Home and AV sector has evolved in recent years so that your customers can experience all of the advantages of an automated and entertainment packed home with no extra cost to the developer, because at Avande we can retrofit all of these systems as people move in or even well after.

Wireless technology has enabled intelligent lighting, environmental control and other automation functionality to be fitted at any point after the main build is complete. The same is true of audio-visual systems that add extra levels of entertainment enjoyment for the homeowner. All of this can be achieved with minimum fuss and disruption to the look of the home. Also, many of today's systems, control points and AV equipment, are designed not just to be aesthetically neutral, but even enhance the look of a room or home. All of this can be offered to customers as they move in (or at any point afterwards) as an upgrade to their home with absolutely no cost to the building owner or developer. The customer interacts with us directly via our specially created Avande Connect website. 
Here, the customer can browse the different options available to them, bespoke created for your development, and they can find out more by talking to us. Once their order is made, our highly-skilled and experienced team of technicians take care of the installation.

Avande Connect is not just on the cutting edge of Smart Home technology – we combine this with the best, most efficient and cost-effective ways to make this part of your offering to buyers. All of these services are also available to established homeowners on a one-off basis to those who want a disruption-free upgrade to their home.
Want the best of both worlds? Then make the smart choice and call Avande Connect.