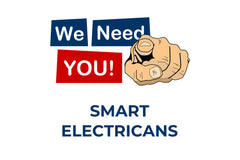 The Avande Connect Approved Partner Scheme opens up new possibilities for electricians and electrical contractors!
Are you an electrician or electrical contractor focused on the creation of new homes or the renovation of existing ones? Then creating fresh revenue streams and services to offer clients is always going to be of interest. This is particularly true right now as we emerge from lockdown and market and service addition and diversification could add valuable extra leverage in bringing businesses fully back up to speed.

Needless to say, however, this is far easier said than done; just how do you find new services to offer and acquire the knowledge and resources to deliver them and keep your business ticking over at the same time?
The Avande Approved Partner Scheme offers a ready-made platform so electricians and electrical contractors can offer the creation of 'smart-homes' (the fastest growing sector in the market) to customers and end-users.
Avande has an enviable and long track record of delivering in this market; creating designs and offering the installation services to create intelligent lighting, smart heating systems, leak protection, smart security and CCTV, networking and Wi-Fi systems as well as exciting multi-room audio visual experiences and even home cinemas.

Avande has delivered a wide range of one-off developments and large MDU projects all over the capital and the South East of the UK, gaining the knowledge of how to succeed in this sector. The good news is that we are now offering this valuable insight to other companies via the Approved Partner Scheme, delivering the chance tap into our wealth of expertise and knowledge so you can deliver these services too.
How do I become an Approved Partner?
There is no test or exam required, you just have to be a qualified electrician or electrical contractor working in the UK residential sector.
The benefits of being part of the scheme include expert training delivered by our experienced team to help get you started. The scheme offers courses covering every aspect of the smart home sector, so whatever type of system you want to focus on, we have a training solution for you. Many of these courses are also completely free of charge – talk to us and we will help you identify the right sectors for you to target that match your skills and customer group.
Each course tackles a different aspect of the sector and provides the market and technical knowledge to begin offering smart home systems to your customers. Gaining the confidence to begin offering these systems is key. As an electrician, you will already have many of the skills needed, in many cases. With our help, just the application of some new knowledge and access to the right brands will enable you to take the first steps to increased revenue and a wider business portfolio.   
Being part of the scheme also means you have access to training from experts that specialise in business management and achieving greater success for yourself and your company. Courses and training delivered by our Avande Connect business and well-being expert network covers branding, advertising, leadership, marketing, business and many other useful subjects.
To identify and offer the right products to your customers, our Approved partners get access to our online e-commerce smart home store which is populated with all the products and brands we have identified as the market leaders to make sure you are offering the right products and functionality for each project.
The feature-packed scheme also delivers access to our design team. We can help with your equipment racks, circuit schedules, panel layouts and even whole home cinema rooms, all branded with your logos for presentation to your customer. We also offer access to unique software that will assist you to design and specify your own projects. There are also opportunities to assist Avande in delivering our own projects UK wide. The opportunities and advantages really are endless with this carefully created Approved Partner Scheme.