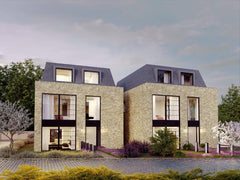 Thanks to the Avande Select Portal created by
Avande Connect
, the prestigious dwellings at
Foxmore Place
can be equipped with the very latest smart home and entertainment experiences. 
As developers strive to find new and exciting ways to entice buyers, the smart home and enhanced entertainment category becomes increasingly attractive. 
However, it is not easy to find a risk-free solution that also offers the same level of quality as the rest of your build. Finding and fitting the systems without concrete knowledge of what buyers will want carries risk and adds to the up front commitment to any build significantly. But what if you could remove that risk? And deliver a bespoke offering to the exact specification desired by each homeowner? That is exactly what the Avande Select Portal delivers.  
The Properties
Foxmore Place is an ambitious collection of five detached houses located in the sought-after area of Crystal Palace in South London. The development is by Luxgrove Homes, a developer that chooses to include the Avande Select Portal in many of its properties. 
These luxurious four-bedroom houses, all benefit from private gardens, dedicated parking and have been designed to create a small and exclusive community that strikes the right balance between metropolitan and suburban living.
The homes also have the advantage of being directly opposite Crystal Palace Park which offers a large choice of cultural spots, local amenities and convenient transport links. 
Foxmore Place is marketed as the ultimate destination for those looking for a more laid-back lifestyle as well as great connections to Central London. 
Luxgrove Homes has enhanced the experience of these homes further by bringing in interiors expert Ademchic to create a contemporary British design of both aesthetic and practical quality. 
Avande Select Portal
Each of the owners of these homes receives a unique code by which they can log onto the portal created for Foxmore Place and make choices designed specifically for their home. Once the choices are made, either before moving in or after, our experienced engineers carry out an expert installation and fully support the products throughout their lifetime.  
Large windows bring bags of natural light into these homes. Controlling that light is made super simple and elegant with the option of intelligent automated blinds. These attractive window treatments make the homes look fantastic, but also control the amount of ambient light that enters the home and of course they close during the hours of darkness for privacy and an intimate atmosphere. The blinds can be controlled manually via wall controllers or remotely using the special app. They can also be automated to perform specific tasks based on the time of day or activity happening inside the home. 
The blinds also work in harmony with intelligent lighting that provides a very similar service, making the home more attractive and energy efficient either at the behest of the occupiers via the app or totally automatically during different times of the day. 
Lights and blinds can work together (or independently) to create special 'scenes' that suit different moods, relaxing reading a book, to full on party time, every eventuality can be catered for. 
Houses need security and every family's requirements are different. Owners at Foxmore can enhance their peace of mind with added security to specific areas of the home. Whether at home or away, owners can rest assured Avande systems are looking after their homes and their loved ones. 
In a similar way to the rest of the options for the homes, heating can be precisely controlled for every zone in real time, and also be automated throughout to deliver set parameters and temperatures for different times of the day or year. With energy costs increasing and efficiency high on the agenda, this is a very popular choice through the Avande Select Portal. 
Homes should be fun too and a wide choice of options can be selected here as well. If the family are music lovers, then they can have high-quality playback of all their favourite sources in any room in the house. Whatever the mood, each member of the family can relax, listen and enjoy whatever takes their fancy, wherever and whenever they desire. 
If entertainment tastes extend to home cinema, then this can be catered for as well with the main living area benefiting from a discreet immersive audio experience that puts movie night onto a different level. 
These fantastic homes offer a combination of high-specification, a great location and thanks to the Avande Select Portal, a bespoke approach to home technology.