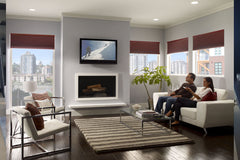 Easy Does It!
If you thought having the house of your dreams was going to mean lots of inconvenience and disruption to the fabric of your home, think again. Today's systems are easy to retrofit, complement the look of the home instead of compromising it, and deliver all the technological functionality and fun you could ever want.
Years ago, cable was king, and delivering next level technology to homes automatically meant a major refurbishment involving inconvenient works. Or, it meant that technological upgrades could only be undertaken at the same time a building was being renovated or built from scratch. Well, not anymore!
The growth of Wi-Fi and other wireless communication technologies –  some of which you might have heard of, such as Bluetooth, and some you might not have, such as Z-Wave and ZigBee – mean that it is now easy to retrofit 21st Century technology into your home fuss-free and fast.
Whatever your desire, intelligent and mood lighting, multi-room music, control and automation for your home or more security can all be achieved with our help and without major disruption.
The improvements that have taken place in wireless communication technologies mean it is much easier than before for disparate products to sit on a network, talk to each other, and deliver the performance and functionality that will transform your living spaces.
Take multi-room music systems for instance; it's now completely possible to fill a whole home with the music you love without pulling a single wire. In the right hands, and with the right knowledge of networking, these systems can be supplied and fitted very easily. All you have to worry about is what to play first and where. In this area, recent improvements also mean that there is no need to compromise on quality. Today's high-quality streaming services and music delivery products can be coupled with high-performance speakers and equipment that will let you fall in love with all of the intricacies of your favourite music all over again.
Intelligent and controllable lighting systems is another area many home owners choose, enhancing their homes with more colour, efficiency and human centric lighting. When we think of lighting, we perhaps assume that new wires or other disruptive systems might need to be fitted in order to get all this new functionality. Not so, as today's systems can be fitted to work wirelessly and offer huge benefits to your home, without fuss.
Another area that can easily be retrofitted and offer huge benefits in terms of comfort and style is in automated blinds, curtains and other window treatments. These systems can keep your home warm or cool, control the amount of sunlight entering the home, and add a touch of drama when the moment is right.
Home automation systems is another area where it used to be necessary to undertake significant works to deliver the right result. Again here, technological advancements mean automation systems can use the home network created by our engineers to allow you to control your home in a way you never thought possible, adding comfort, control of utilities, extra security and fun audio-visual experiences, all fitted fuss-free.
The home of your dreams really is closer than you think – in fact, you already own it. All it needs are those extra technology touches quickly and simply installed by Avande. Get in touch to find out more.
By Daniel Sait