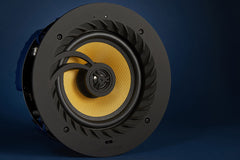 Founded by experienced product designers with the knowledge of how to take a product from concept to a fully formed attractive and high-functioning design, Lithe Audio holds a unique place in the integrated audio category. The manufacturer marries high-performance sound, with the convenience of products that integrate fully into a home during a build or renovation phase, or even retrofitted at any point in a home's life. Lithe Audio has also delivered clever ways to get music from a smart device (the most common place stored content and streaming is accessed from) onto its speaker designs.
Available for supply, specification and installation by Avande, Lithe Audio fits perfectly into our product portfolio as we emphasise ease of use and high-performance.   
One of the maker's most popular products is Lithe Audio's Bluetooth enabled in-ceiling speaker. This featured packed design offers integrated installation into a home (cleverly using the lighting circuitry for power so there is no need to run extra cables), on-board amplification (again, no extra cables or kit is needed) and Bluetooth connectivity with smart devices and phones.
The speaker uses the latest rock-solid Bluetooth 5.0 technology and has a range of 30m from the device supplying the signal. The speaker also supports an Aptx Low latency protocol for seamless wireless syncing with TV audio. For music, all a user has to do is select what source they want from any of the popular streaming services they are signed up to, or use content stored directly on the device, and the speaker bursts into life filling the space with high-quality audio.
Lithe Audio also has a speaker based around a similar design, but this time using Wi-Fi connectivity to make the connection between the music and the speaker. The products and the features for both are controlled via a fully featured app for android or Apple with control and installation features built in. Users can access Spotify, Tidal, Deezer, TuneIn or vTuner all within the app.
The speakers can be used as single units for smaller areas – bathrooms, for example (there is a dedicated bathroom model) – and they can be used in stereo pairs for more impact in larger spaces. They can also be used as part of a full surround sound system for a home cinema experience. In fact, the Wi-Fi version can deliver up to 30 speakers in a single home, making it a great choice if you want audio everywhere.
A true innovator, Lithe Audio also provides drivers so the products will work with popular home automation systems such as RTI, Control4 and Loxone. The products will also integrate with Alexa and Google Home.

The huge amount of installation and use case versatility means Lithe Audio is a regular for Avande, particularly in our retro-fit packages.
Never one to stand still, there is lots more innovation on the way as this audio pioneer adds more functionality and some new products – but as of right now, if you want great sounding audio for music or AV experiences that fit discreetly into a home and connect with the way content is enjoyed today, just think of Lithe Audio and Avande.
If you want to find out more about specifying Lithe Audio into your next project, drop us a line at
enquiries@avandeconnect.com