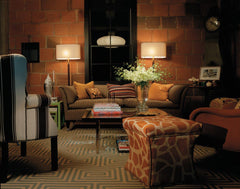 Efficient, attractive, intelligent lighting from the world's leading brand.
One of the undeniable leaders and innovators in the smart home sector is Lutron and the RA2 Select platform has transformed the market with an affordable, but powerful route to intuitive, beautiful smart lighting. 
The RA2 system delivers all your lighting and natural light control needs so no matter what the mood or time of day, the perfect level of natural or artificial light is delivered automatically. RA2 is also compatible with Lutron's attractive Sivoia QS Triathlon family of blinds and window treatments delivering ambient light control. 
The platform allows end users and our specially trained engineers to create attractive 'scenes' to produce a special atmosphere whether they are enjoying a movie night, hosting a party or just wanting to relax with a good book.
The Lutron RA2 platform can mix millions of colours and light levels to offer a beautiful pallet for any home. The RA2 system can also be programmed to match specific events such as leaving or returning to the home. The system has a built-in astronomical time clock so it can match perfectly what is happening in the natural world such as chiming with the rising sun. 
The system can also deliver energy saving features making sure lights are not left on and are only ever at the level they need to be. All this power is intuitive to control via attractive wall controllers and via the user's smartphone or tablet through the Lutron App. The system can also save energy via automated sequences programmed by our engineers, so users need not interact with the system at all and still save energy. 
There are also important security benefits as the system can be set to mimic occupation when the owners are away on holiday or for work. The lighting can also work in concert with automated blinds to make a complete artificial light and ambient light control system. 
RA2 is also compatible with Alexa and Google Assistant if voice control is required. Users can also access the system when they are away from home via the same app. 
When available on the Avande Select portal, the RA2 systems have been designed specifically for each development and can be added to a dwelling at any time as the systems are fully retro-fit friendly.
Working directly with the developer, the Avande team has created detailed plans of each dwelling and designed lighting systems to exactly match the number of circuits, light switches and requirements for each property. 
So, when users access the Select Portal for their home, they are choosing a system that has been designed specifically for their requirements. 
Our highly trained and experienced engineers fit the systems with no impact to the aesthetics of the home, no disruption to the homeowner and there is no need to alter any existing light fittings.
All our systems and work are fully guaranteed and supported so developers and end users have full peace of mind. There are never any hidden costs, the homeowner chooses what they require from the Avande Select portal and all costs are displayed up-front. 
Light up any home with the best value, most efficient and highest performing smart home lighting system on the planet, Lutron RA2 Select.
If your home is included in the Avande Select Portal scheme and you have a question or you are a developer looking to add our services to your projects, contact us today!  Call 020 3746 1004 or email enquiries@avandeconnect.com