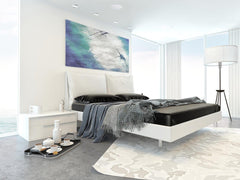 High-performance integrated audio solutions created specifically for every building and dwelling are made possible via the flexibility and performance of Lithe Audio.  
We make informed choices when picking the right products to use in new developments or renovation work. A mixture of high-performance, reliability and flexibility are what our experienced installation engineers look for. 
When offering bespoke multi-room and home cinema audio options specifically designed for each home, one of our go-to brands is Lithe Audio. The Avande Select Portal delivers homeowners the opportunity to choose from a range of audio packages (either prior to moving in or afterwards) designed specifically for their home. A unique portal for each project is created on the Avande Select Portal, all homeowners need to do is log on with a unique code and all the options for each dwelling are displayed with up from costs. 
Designed for how people interact with content today, Lithe Audio has created a family of integrated in-ceiling speakers that can be installed discreetly into any home and then offer access to all the audio choices their new owners could possibly need. 
Equipped with Bluetooth and Wi-Fi, owners can connect their new speakers to Spotify, Tidal, Deezer, TuneIn or vTuner. Users can also access any audio files stored on smartphones/tablets or computers. More conventional audio equipment such as Hi-Fi, home cinema equipment or TV services can also join the party delivering a complete audio package for any type of viewing or listening. 
The innovative way that the speakers are powered using the existing standard electrical wiring used for lighting in any home, means the Lithe Audio family is particularly flexible being able to be installed at any time with a fast, efficient and fuss free experience.
Lithe Audio has a strong range of products that deliver a choice of connectivity and performance characteristics which means our installation engineers have all the options they need when designing systems specially for each development and any size of individual dwelling. This manufacturer also spends as much time making sure the speakers sound great as well as delivering all the installation flexibility and connectivity the brand has become known for. 
Lithe Audio has created an intuitive app through which all of the systems can be controlled. The brand is also compatible with the most popular home automation platforms such as Control4 and RTI. Developers should note that the brand is also great at delivering audio for clubs, bars, restaurants, workspaces and hotels.  
When it comes to thoroughly modern ways to access audio, Lithe Audio in partnership with the Avande Select Portal is music to your ears.