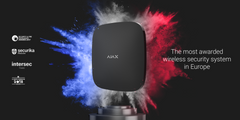 Every homeowner wants to feel secure and know their family is protected, but every home and family is different. 
Avande chooses Ajax Systems, a scalable platform of products which can adapt to any building ensuring each customer has exactly the security they need. 
Ajax Systems launched in 2011, a genuine innovator, the company has grown fast to become one of the most popular and successful in the sector. This has been driven by the maker's ability to solve complex security issues with a range of convenient, attractive and user-friendly products. 
High-quality hardware mixes with cutting edge in-house software to deliver peace of mind so that whatever a family is doing (at home or whilst they are away) the home is safe and secure. Everything has been designed from the ground-up in-house to meet the needs of the modern family and utilise all the best communications and security technologies available. 
All of this and they are beautiful too. Market leading aesthetics the competition are trying to catch up to. 
When homeowners have an Ajax system, they can rest safe in the knowledge that they have a system from a market innovator, not a company trying to catch up with the latest trends in security. 
The technology, devices and production techniques have proven their reliability in independent laboratory tests in Europe, earning certification reserved for only the most trustworthy professional security systems.
Ease of control is promoted by mobile apps, monitoring apps for PC, as well as turnkey solutions for connecting Ajax security systems to third-party monitoring stations. 
Ajax has not just innovated when it comes to the products either, hassle free installation is delivered as the devices do not need to be disassembled and prepared for connection and thanks to the maker's 'SmartBracket' fitting takes just a few minutes.
As the system operates wirelessly over modern cutting-edge protocols, much less wiring is needed than with conventional systems keeping cable clutter to a minimum, protecting the aesthetics of the home.  
Years of battery life and in-app configuration further minimises the need for physical maintenance. Once a system is fitted, the end user simply gets on with their life knowing the system is protecting them and their home. 
 Safe as houses
Every aspect of security around a home can be covered by the Ajax range. Movement detection, breaches at windows or doors, surveillance via CCTV, protection from leaks, fires, and smoke. Ajax protects the inside and outside of the home by throwing a virtual cordon around the property day and night. 
Starting with one of the company's wireless control 'Hubs', the brain of every Ajax security system, products from the range are added to suit exactly the needs of every home and family creating a truly bespoke security and safety blanket for every customer. As many as 200 separate devices can be controlled from one hub as the system stays in constant contact with itself over Ethernet or Wi-Fi/2G/3G/4G. 
For an extra level of security, the systems even protect themselves from hacking or interference via specially created software.