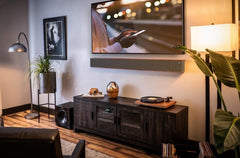 At Avande we like to keep an open mind when it comes to products. Remaining largely brand agnostic and not tying ourselves to a limited set of options, allows us to produce better results picking exactly the right option for each project and use case scenario. However, we do have a few brands that we work with that are just so exceptional they are worth shouting about.
When it comes to delivering impressive and versatile audio for a whole range of applications from single rooms, to multi-room systems, to home cinemas or even garden and exterior audio, Klipsch is one of the best on the planet.
With 70 years of design history and heritage to call on, all Klipsch products are hand-crafted at the company's own factory in the U.S.A. The brand is so revered in the audio manufacturing community that its founder Paul W. Klipsch is seen as one of the true pioneers of high-quality audio in the home and professional settings. A true eccentric and a member of the engineering and science hall of fame, Paul invented many of the speaker technologies that still sit at the heart of the Klipsch story today. Innovations such as the Klipschorn speaker that was designed to capture the feel of live music and deliver it into the home are why Klipsch is and continues to be one of the best options for home audio.
Klipsch speakers integrate into the fabric of the home
The brand has an impressive array of products delivering high-performance options for a vast array of uses. At Avande we love the integrated speaker ranges which deliver in-wall, in-ceiling and wall mounted options integrating with the fabric of the home. These can be fitted whilst a building is under construction or being renovated. They can also be easily retro fitted at any point they are required to bring the joy of music to wherever it is needed.
These options can come with square or round speaker grilles to produce the correct aesthetic for each space.
The Heritage Theatre Bar
Other highlights include the Heritage Theatre Bar which is an attractive option to boost the audio of any large screen TV. Underlining the brand's manufacturing expertise, this product can be built to order to the exact size to match any TV and comes in a range of finishes to suit the room's décor.
The brand also has a stunning range of speakers designed just for home cinemas. If the system needs to fit into an existing multi-use living space or a dedicated cinema room, Klipsch has the answer, many of them certified by THX, the global standard used to measure high-quality audio production in the home and professional cinemas.
Klipsch offers a whole range of home cinema speakers
Klipsch also offers an outdoor speaker series from simple to install cabinets to landscape satellites and subwoofers. Enjoying music outdoors is an increasing trend so why not have it delivered by a brand that really understands how to do it so well?
The speakers are not just innovative when it comes to producing great audio and fitting neatly into the design of any home, they are designed to make installation as fast and simple as possible. This cuts down on time on site and any potential disruption to the homeowners.  
Having confidence in the products is the key for Avande, however some questions are easier to answer than others, so when it comes to great quality audio, integrated into a home, one of our first thoughts is always Klipsch, it's just that good.