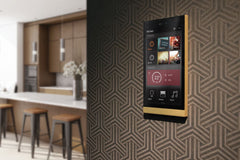 As the concept of a fully controllable smart home continues to spread in popularity with new builds and in the retro fit market, manufacturers have been striving to create designs that do not only provide the functionality needed, but also enhance the look of a home with keypads and touchscreens that add style and grace as well as control.
Here at Avande, we choose our product partners very carefully and always ensure we are offering good looks and performance in one package. So, if you thought items that control a smart home were going to comprise the aesthetic of a building, think again, not only do they not compromise, they enhance. Take a look at just a few of our favourites that marry technology and style in perfect harmony.  
Black Nova
The Black Nova automation platform epitomises the joining together of modern aesthetics and smart technology. The company's wall-mounted controllers such as ARIA and ALBAdeliver a tribute to
minimalist aesthetics offering natural elegance via straight lines, simple shapes, vivid colours and smooth glass surfaces to match any type of interior. The bespoke looks and precise performance create an experience of pure comfort and pleasure.
Black Nova ARIA
Fibaro
Fibaro offers an affordable route into the smart home world, and its products are suitable for new build or retrofit projects and deliver lots of functionality with cool looking controllers.
The company's Walli smart outlets and switches are based on Z-Wave technology and will equip any home with versatile intelligence. The look of the series is inspired by a pearl offering timeless sophistication and a beautiful shape that will complement any interior.
Fibaro also offers it SWIPE touchscreen which can detect simple and complex gestures to control a smart home.  This attractive screen connects users and intelligent technology like never before.
Fibaro Walli, colourful and cool
Fibaro SWIPE literally puts the user in control of their home
Polar Bear Design
Polar Bear Design is a creator of products for the luxury end of the home automation market.
A recent introduction is the Zentium Thermostat, a dual zone thermostat that allows control over heating and cooling via its simple digital crown. The thermostat can be standalone or combined with intelligent lighting control keypads from other manufacturers, such as the Lutron Palladiom or Crestron Horizon. The product leverages years of experience, ensuring there is no learning curve when it comes to using this stylish thermostat.
Polar Bear Designs' Zentium Thermostat
Control4
Control4 is one of the big beasts of the home automation world, with a global reach that offers a huge amount of automation possibilities. Easy to use and good-looking products have always been part of the Control4 offering and most recently this can be seen in the company's latest keypads. Control4 keypads provide a stunning interface for any Control4 smart home system, combining flexible button configuration with beautiful aesthetics to complement the decor of any home. With the simple press of a button, you can activate a scene, allowing events to happen simultaneously.
Control4 keypads come in a huge range of finishes and colours
Control4 is another company which offers touchscreen products as part of its offering. Delivering a 'smart device' experience already familiar to many users, the company offers 7in and 10in versions of its attractive T3 Series in-wall touch screen series. These gorgeous, low-profile designs with edge-to-edge glass and stunning, high-resolution graphics, look amazing on any wall and deliver all the control needed.
Control4's T3 Series complements the home with good looks and functionality
Vitrea
Vitrea offers several different smart home options, including its VTOUCH PRO automation platform. Because of its ability to simply replace regular electrical switches, VTouch Pro's innovative use of wireless technology gives all of the benefits of a home automation system without the need for expensive infrastructure, renovations or complicated, wired installations. Not only easy to fit, the products are easy on the eye as well.
Good looking and refined, Vitrea VTOUCH PRO
Loxone
Another company operating at the 'affordable' end of the market, Loxone is an innovative company offering smart home options for every eventuality. The maker has not neglected aesthetics when it comes to controlling the system either, with products such as the Touch Pure, an elegant frameless touch switch with a high-quality 3D printed high-quality glass front.
Loxone Touch Pure offers a smooth, satin glass finish
Savant
Savant is a luxury smart home platform offering a myriad of ways to beautifully control a smart home. A company with a real eye for detail, products such as the Metropolitan Keypad come in a wide variety of button arrangements and can be placed anywhere quick access to lights or music (or anything at all) is needed. The buttons can be customised for a huge range of functions and offer attractive engraving to make sure they are easy to use.
Savant Keypads, where form meets function
Savant also provides touchscreen options like the Savant Touch 8in screen which delivers dedicated and elegant control with impressive high resolution graphics. 
The Savant Touch offers simple, elegant control
Theben: LUXORliving
Incredibly easy to programme and use, the LUXORliving smart home system from Theben has been designed to make life easy. The LUXORliving iON tactile sensors and room controllers offer a wide selection of buttons combining both style and function.
Theben LUXORliving iON tactile sensors and room controllers with an integrated temperature sensor enable users to trigger various functions at the push of a button.
Cool colours and calm control are delivered by LUXORliving iON room controllers
Crestron
Another luxury smart home provider, Crestron is one of the longest established companies in the market and has a huge range of functionality to offer the smart home market.
The company has always had a strong sense of style underlined by some of its latest creations – including the Cameo Keypad. This versatile and stylish wall-mount keypad featuring customisable buttons, auto-dimmable backlit text, enhanced LED feedback and control ports. Available in 12 colours and two finishes, there is a Cameo for every home.
Crestron Camio Keypads, functional and fun to use
Crestron's touchscreen option is currently spearheaded by the TSW series which offers an incredible user experience, from audio to video to amazing applications. This superfast controller blends control with style effortlessly.
The Crestron TSW is one of the most advanced smart home controllers around
Basalte
Basalte delivers a choice of automation and audio-visual options that blend easy to access control with some of the most desirable touchscreens available. The Fibonacci keypad, named after the golden ratio of the Fibonacci sequence used in its design, is a particular highlight. Fibonacci comes in four or two touch surfaces and the surface underneath can be backlit engraved in-between the upper and lower buttons.
The Fibonacci keypad from Basalte oozes style
Basalte also offers touchscreen options such as the beautiful Ellie, an elegant touch-sensitive panel that acts as the go-to point to control lights, climate, music and more around the house.
Ellie is at home in any home
Gira
This design conscious European maker has a family of attractive touch-pads that control lighting, blinds and audio visual systems, with the added benefit of thermostats and humidity sensors built in.
The Gira PB4 is a wall mounted push-button example that accepts between four to eight individually variable functions to be defined. Either one or two LEDs provide operating and status information, but do it with style.
The Gira PB4 offers simple style and ease of use
Jung
Another maker with bags of style is German smart home provider Jung, known for its rock-solid manufacturing processes and reliability, as well as a very well-developed understanding of aesthetics.
A great example is the Jung F50 compact room smart home controller, which delivers a big choice of functions and intuitive operation. The product has a backlit LCD which shows the most important information and control options available, irrespective of  viewing angle.
The Jung F50 is a classic piece of German design
Ekinex
This collection of wall-mounted controllers from Ekinex provides another fine example of how form meets function in the smart home environment.
A big family of options lets users effortlessly control their home, but also make choices that match their taste. Simple and linear, the company's controllers suggest reliability and precision, offering a range of push-buttons, touch-displays and plates which help to make the smart home an attractive home too.
Ekinex black and gold controllers reflect the aesthetic of this stylish room
Lutron
Lutron is a very well-established smart home maker, specialising in the area of lighting and window treatment control, but these days offering automation and control to other parts of the home as well. A recent introduction is the RA2 Select platform, delivering personalised smart lighting and shade control for any home for a wide range of budgets. The controllers for this system match technological innovation with simple, but elegant wall-mounted keypads.
RA2 Select offers simple to understand, powerful control
So there you have it – proof positive that smart homes can definitely be attractive homes and assurance that today's systems will never detract from the look of a home, but will enhance every environment they are installed in. All available from Avande.