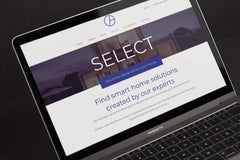 Are you a developer, architect or designer that is aware of the need to provide more efficiency, technology and control to your projects, but are struggling to find a way of delivering those benefits? Our Avande Select model offers the chance to deliver the automated and feature rich house of the future that your clients are going to want, at no cost and no risk to you. Read on to find out how.
There comes a time that certain features of a new build property move from merely being on the homeowners' wish list, to something they simply will demand and expect when buying a new home. We stand on the cusp of just such a time as home automation, driving new levels of efficiency and control, moves from something homeowners want to something they will expect. Having a convenient way to easily and efficiently control lighting, heating, security and perhaps some audio-visual experiences, will set a development apart from those that do not and place the project right on the cutting edge of cultural and built-environment trends.
All of this adds to the build cost, right? wrong. At Avande we can deliver a whole range of solutions which can build in some basic building automation for no more than you would pay for a basic level electrical infrastructure design. We can go much further than that and add a whole range of options that the homeowner can choose as they move in or even after. The best thing about this is that the Avande Select on-line model means the customer deals directly with us so it does not cost the developer anything. Options are chosen via the on-line service and the installation and any financial aspect of the transaction are taken care of by Avande.  
So how does it work?
Via our on-line Avande Select portal clients can access bespoke website pages created especially for each project that we work on. The website, driven by constantly updated bespoke software, gives them unique and branded access to their building's options to choose systems that will control and automate their lighting, heating, security and a whole range of entertainment options. We create the choice available in consultation with each developer we work with offering appropriate options for each building. The portal is simple to use with clearly presented options, making sure the customer is never confused, just enthused by what their new home can offer them in terms of advanced functionality to suit their lifestyle.
The options the Avande Select portal will offer will depend on the demographic of the target market of the development. First time owner apartments, retirement developments, family homes, all types of projects and likely homeowner groups can be accommodated for offering technologies and options that will be a priority for different groups. Do not make the mistake of thinking that this type of technology is only desired by the younger potential buyer, the types of technology we provide simply make controlling the home easier, more efficient and also make it faster and simpler to enjoy the entertainment experiences the home owner loves; who does not want that? There is also the area of assisted living to consider, as we get older, opening and closing curtains, switching appliances on and off or receiving outside assistance quickly and efficiently, start to become useful options. Think of a demographic and what their priorities might be, and we have the technology to match it.  
Avande Select creates a bespoke service for every type of project priority, we can accommodate any type of approach. If the approach is to sell as much of the development off plan, then we can add options in at that point, if you want to add an option for later buyers to add automation later in the build, then we can do that. We create bespoke systems for each project and can make the system do whatever is needed therefore adding these options is as smooth and beneficial as possible.
Avande Select provides developers with the opportunity to include desirable cutting-edge technology on each build from day one. Why wouldn't you when there is no additional outlay on your part, and it delivers such a clear advantage in the market when it comes to the sales drive?
Working in full consultation with us, we create an on-line portal for your development populated by your own branding, to the home owner it feels like an extension of the project, but behind it all, our proven system works with efficiency to enhance each home in a way that pleases the client and creates good will all-around. 
As pressure builds to be more environmentally friendly, our systems can help deliver the new efficiencies now demanded in buildings, not to mention higher levels of peace of mind that truly secure homes offer. Let us not forget enjoyment too, homes should be filled with music, fun, games and movies, our system can deliver all of that at no cost to the developer.  
Please speak to one of the team and we can arrange an on-line demo to show you just how easy it is to be a cutting edge, 21st century developer by working with Avande Select.