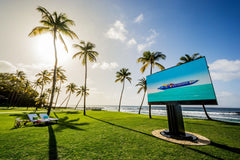 A significant growth area for luxury audio visual and home automation systems is the exterior spaces of a home. Gardens and larger landscaped areas can benefit from powerful and subtly introduced technology to make outside time even more relaxing and pleasurable.
Those in the design community tasked with providing guidance to their customers on what their exterior spaces can be and can achieve should talk to a smart home specialist like of Avande Connect and we can make your customers garden dreams come true.
It was only a relatively short time ago that many of the technologies that we use to enhance home life inside a property were simply not available in exterior spaces. However, the situation has been transformed as technology has advanced and audio-visual systems can cope with all of the challenges that being out in the elements presents.
Today's systems don't just survive, but thrive in the elements delivering a wide range of experiences for the whole family to enjoy when spending time in the garden, by the pool or in larger landscaped areas.
Homeowners can enjoy large screen cinema experiences, multi zone high quality music and subtle and aesthetically pleasing lighting all designed with the same level of care and attention to detail as in-home systems.
Whatever the priorities of the homeowners, systems can now be created to accommodate them. If simple background music is required for a pleasant barbecue, or more full-on audio for party time, today's systems can cope with any type of use case scenario.
Many people enjoy watching movies and sport outside and modern systems can deliver awe-inspiring experiences during sunlight hours and also after dark. The evenings and night-time are particularly powerful times for automated and controllable lighting systems to come into their own. Subtly highlighting certain aspects of the surroundings, be that plant life or perhaps a sculpture or fountain, automated and intelligent lighting can bring exterior spaces to life like never before.
To luxury smart home installers, the exterior spaces of a home are really just another space where we can create bespoke systems that suit the property and the lifestyle of those living within.
Once installed, homeowners can rest assured that these systems are robust enough to cope with anything that the British weather can throw at them, and will give hours of entertainment, pleasure and extend the family's lifestyle to any part of the property they require.
As enjoying the exterior of homes has expanded in many ways in recent years with people investing in high performance cooking areas, hot tub spaces and pools, having high performance automation and entertainment equipment in place is a logical addition to this phenomenon and a significant growth area for our industry.
Get in contact to find out more!