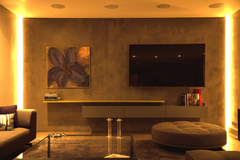 Enjoying great TV and home cinema experiences is all about performance and content. Happily, those two ingredients have never been more readily available, so enhancing your screen time at home is now possible to a level that literally your eyes and ears won't believe.

The expansion of top-quality TV shows, films and content has been driven by the availability of systems such as Sky, Virgin Media and by streaming services such as Netflix. Add to this the lesser known, high-quality movie servers which can store all your favourite DVD/Blu-rays and deliver access to online digital movie stores, then getting to the content you love has never been easier. The global success of high-quality drama series such as Game of Thrones and The Walking Dead, not to mention the availability of all the world's top sporting events, means that the days of dreary old TV shows than neither excite or inspire are over, you can have the content you want, when you want it and in unbelievable quality.
Immersive TV 
Whilst our experts can hook you up with all the content you could ever want, what good is it without something awesome to watch in on right? Well we have that covered too. Modern large screen TVs using technologies such as OLED and advanced LEDs deliver images that you won't believe. Lots of technical phrases such as 4K, 8K and HDR (High Dynamic Range) are bandied about these days, rest assured we will only supply TVs that deliver the very best images possible for your needs. We deal with the technical side so all you have to do is enjoy the experience.

Marrying today's very slim TVs with strong audio is also hugely important to your enjoyment. Many speaker systems are now made specifically for this task, matching the form factor of the TV and adding the high-quality audio to match the high-quality image. We have this covered too.
Immersive Cinema
Home cinema has seen massive growth in recent years, the products to install either a dedicated home cinema or a system which sits hidden in your living room until it is needed have never been better and more readily available.
Many people ask us if a home cinema is as good as going to a 'real cinema' we say no, it isn't, its way better. Today's projectors, screens and discrete speaker systems will deliver an experience at home that will outstrip anything you will experience in a multi-plex cinema. You will see better large screen images, hear better sound and have a genuinely more exciting experience all in the comfort of your own home. If you love movies, watching sport on the big screen, or binge watching that latest box set, we are about to make your viewing dreams come true.
by Daniel Sait