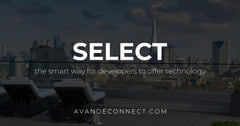 Include smart technology into projects at zero cost!
Most developers and builders will have heard of smart home technology – systems that add extra enjoyment, functionality and efficiency to new build homes or as a retro fit to existing properties.
What you may not know is that this exciting 21st century technology can be added at no cost to the developer. Avande Connect explains how.
Smart home technology has been growing in awareness within the general population steadily over the last decade. The smart home market has actually been around for considerably longer than that, in the main servicing luxury builds with home automation and high-end audio-visual experiences for one-off homes or larger developments. However, with a growing retail market for 'smart' products and a more mature professional installation market led by companies such as Avande, market penetration is increasing as more potential home buyers demand and expect this type of technology across a wider scope of builds and property types.
In much the same way as any new type of functionality that home buyers come to expect, such as a fitted kitchen, the issue for developers has always been one of cost. How do you create a market advantage for your project, but still control costs and turn a healthy profit? Well, Avande Connect has developed the answer with our unique marketing, sales and partnership model.
How does it work? 
We provide a complete white-glove installation and maintenance service for any developer who wishes to include smart home or audio-visual experiences in their project by dealing direct with the consumer. In our model, the homeowner bares all the cost for the systems that are fitted. Our online approach means each developer partner who signs up to the programme is provided with a dedicated portal for their project where homeowners, either just before they move in or afterwards, can log-on and choose the smart products or audio visual experiences they want. They deal direct with us for everything, including billing. So as a developer, you get to provide the latest 21st century homes, at absolutely no cost or extra effort on your part.
Our highly experienced team of technology experts can fit automated and intelligent lighting, heating, window treatments, security and remote monitoring functionality for when the homeowner is away. For music and movie fans, we can create wonderful audio-visual experiences such as multi-room music systems, home cinemas and high-quality listening systems immersing the homeowner in a world of controllable, on-demand entertainment.
Get in touch and find out how you can deliver the homes of tomorrow, today and for zero cost with Avande Connect.