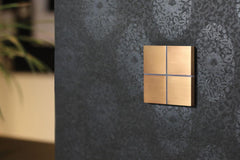 Here at Avande, we only work with brands that are able to offer intuitive operation, combined with strong aesthetics.
Basalte offers a family of automation and audio-visual products that combine easy to access control, in addition to the most attractive touchscreens in the market.
The company pours huge resources into creating tactile and beautiful control points; they look so good, you can't help but want to touch them and interact with them.
Technically, their reliability is second to none, and all the ranges use the KNX automation system as a backbone –  the most popular building control system across Europe. KNX delivers the reliability and ease of install that allows Avande to offer Basalte as a 'day one' proposition – already installed and ready to deliver 21
st
century control as homeowners move in, or as a retrofit at any point in the building's life.
Architects and interior designers around the globe rely on Basalte to offer the control options homeowners require in harmony with their vision for the building's design.
Basalte wall-mounted touchpads match any home beautifully
The Basalte family
The well-established Belgium-based manufacturer has won over 35 international design awards, and offers homeowners the chance to control their lighting, heating, window treatments, security or music and other audio-visual experiences all from stunning wall-mounted control points, or via the company's own app for use with smart devices.  
Among the highlights from Basalte's range that the Avande team feel are particularly strong include the recently-developed Fibonacci keypad, named so as it follows the golden ratio of the Fibonacci sequence in its design. Fibonacci is available with four or two touch surfaces, and the surface underneath can be backlit engraved in-between the upper and lower buttons.
Also included inside is a proximity sensor which means the control point gently brings the backlight into play as someone approaches, getting the control point ready to perform whatever function the user requires. The backlit words or symbols can be changed at any point in the product's life.
Fibonacci is a brand new controller from Basalte
Fibonacci has multi-touch and scene sequencer functionality, offering quick access to pre-programed scenes created by our programmers – which prepare a room for whatever the intended use: welcome home, movie night, dinner party or chill out time can all be pre-programed into the KNX-based system.
Like many of the company's products, there is also a built-in heat sensor to assist in the accurate control of HVAC and heating systems. True to the brand's commitment to versatility, Fibonacci comes in a wide range of colours, and fits in various types of wall boxes.
Sentido is a very popular product from the Basalte family, which delivers a touch-sensitive switch divided into two or four equal surfaces – each with its own programable functionalities. The entire surface of Sentido is touch-sensitive, creating a truly innovative and unique user experience for every home, once Avande's expert programming team have completed the installation.
Lights, shades and room scenes can all be activated and controlled even at the slightest touch. Also attractively backlit like its Fibonacci cousin, complete control of the whole home is just a touch away. Like
much of the Basalte family, Sentido comes in a huge choice of finishes and colours, so any interior style can be matched perfectly.
Whether a home requires simple and intuitive control over its utilities, or a more all-encompassing whole home automation system, Basalte and Avande combined offer beautifully simple solutions to deliver whatever is needed.
Huge choices in finishes and colour are available with designs such as the Sentido