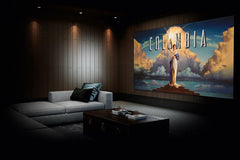 With consumers finding high value in enjoying their homes like never before – creating important family time around high-quality entertainment experiences, coupled to important technological advances – the age of the home cinema has truly arrived.
Home cinema as a concept has actually been around for many years. However, until relatively recently, it was mainly confined to dedicated spaces within the home and often carried a hefty price tag. That's not to say what was being created was not hugely impressive – as home cinema installers, we learnt to create experiences that are truly mind blowing and far superior to what you will find in a commercial cinema – but these experiences are now available at a much wider set of price points and are able to be deployed in a much wider range of rooms and environments. So how did we get here? 
Major manufacturers such as Sony offer high-performance options
Avande's wonderful world of home cinema
As the market for home cinemas has matured, the technology has advanced and allowed the deployment of a larger range of options retro fitted or for new build. The technology contained in advanced pro level home cinema projectors, amplifiers, screens and speakers has trickled down through manufacturers' ranges and so whatever the budget, something really impressive can be created.
A key advancement is the ability to merge a home cinema system into existing living spaces with minimum disruption, but still with high performance, is also an important advancement. Yes, many people still opt for the dedicated home cinema room approach, but it is now possible to deal with the higher ambient light levels encountered in a multi-use living room space. It is also possible to fit a system into the fabric of the room so that the interior design scheme is not disturbed and, in the main, remains hidden until called on. Once activated, the space transforms for movie night, high-end gaming or that big sports event.
Some important technologies have also come through that make enjoying a home cinema and a wider palate of content that much easier. Image technologies like 4K, HDR and audio codecs such as Dolby Atmos and DTS:X Pro, mean that truly life-like imaging and awesome immersive sound are all achievable and are available across a wide range of content delivery systems. Without needing to get too technical, these new content technologies simply pack more of what our eyes and ears can experience into our favourite content, delivering more excitement and engagement. High-performance content servers, streaming services like Amazon and Netflix as well as more traditional broadcasters are all getting involved, so whatever the taste, a cornucopia of content is there for everyone to enjoy and access at the touch of a button.
If your experience of 'home cinema' so far is limited to '5.1' systems with visible speakers arranged inconveniently around the room, a wonderful surprise awaits as hidden speakers, speakers integrated into the walls of a home or beautiful visible speakers work in tandem with high-performance equipment discreetly hidden away.
Sounds a bit complicated though, right? Wrong! You don't have to worry about the technical side for one instant. Avande will handle all of that for you. Whether it is part of a new build home or a retrofit system, we can create for you a system that is better than anything you will have experienced before with zero effort on your part. Relax, it's movie time and it's going to change the way your view home entertainment forever.
Get in touch with us and find out how to invest in the home and family entertainment like never before.