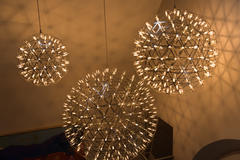 Mood and automated lighting
Way back in 1880 the very first home in Britain in the City of Newcastle was furnished with the first viable electric light bulbs. Apart from making more elaborate light fittings available over the years, this basic method of lighting a home has remained the same for over a century. However, with technologies such as efficient LED bulbs and automated lighting, home lighting systems have undergone a revolution to make them more versatile, controllable and aesthetically appealing.
Whatever your priority; saving energy, making your home more beautiful or introducing automated systems for convenience, we can deliver a system that exactly fits your needs.
Modern systems from companies such as Lutron, Crestron and Control4 have taken lighting to a whole new level. Want to change the mood of your home for a special occasion by changing the colour of the lights? Today's systems can do that. Want specific lights to automatically come on when you come home or wake up? Today's systems can do that. Want to enhance your well-being with lighting which matches the natural world as well as considers the weather and amount of natural light outside the home? Today's systems can do that. What is more, they do it automatically without you having to lift a finger, so you can get on with your life as your home adapts and adjusts to the day, the seasons and your mood.
Today's lighting systems can be discretely installed into new homes or retro-fitted into to existing ones either becoming part of the fabric of the home, or equally they can be statement pieces filling a home with colour and light.


Naturally Better
What is more, it's now also possible to accurately control the amount of sunlight coming into the home. Automated blinds and window treatments can track the sun and amount of light outside and provide the appropriate amount of shading, or when it gets dark, close the curtains/blinds completely. These automated systems can also work in concert with the automated lighting, making sure that throughout the day, your home looks and feels at its best.
Control can be achieved via your tablet, phone, dedicated on-wall controllers and best of all our experts can programme the system so it reacts automatically to any given scenario imaginable.
Working with our experts, your home lighting transforms from a perfunctory utility, to a living breathing part of the home which knows your needs and reacts to them, whatever the need or occasion. It could be the single most impactful investment you make to your home.
by Daniel Sait